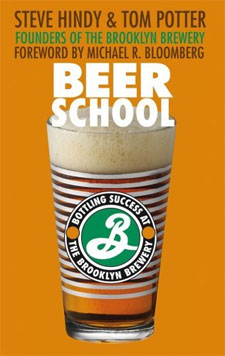 I finished reading this book about a month ago, but I have a hard time figuring out what to say about it. It's not about Beer. Well, not really anyways. I wasn't getting myself into what I thought I was when I opened it up. I got myself into something much more interesting. It's a book about entepeneurship. How to start your own business and everything that goes into it. The challenges, especially the unexpected ones, that need to be overcome. Beer just happens to be the product that they are selling - but it could be anything.
That's the lesson that I took away from my entrepreneurship class way back when. Good ideas fail because of bad management and bad ideas succeed because of good management. It really comes down to being smart and working hard. Writing a good business plan shows that you have put thought (and done the research) about the challenges that lie ahead. Be well aware though that as soon as the document is written, it is obsolete. Instead, jump on opportunities as they come up instead of ones that you have pre-planned for. At the same time, know when to say "no"; fold your hand to save your skin. Some of the best decisions that are made are ones where bad opportunities were turned away.
For example, The Brooklyn Brewery did not expect to become New York City's largest specialty beer distributor, but to get where they wanted to go that's exactly what they needed to do. The opportunity grew organically and they jumped on it. When they realized that selling the distributorship would yield much more in revenue than managing themselves and that would, in turn, allow them to focus back on their core business of the brewery, they went with it. They never felt stuck in a box. They stayed on their toes.
For each chapter, the book moves in a semi-chronological order but is really organized in a way to emphasize the importance of each of these topics:
- Choosing partners
- Building teams
- Creating business plans
- Raising money
- Mission statements
- Motivating employees
- Guerilla marketing and publicity
- Networking
- Hiring and firing
- Cashing out
- Determining if you're entrepreneurial material
After finishing the book, I was more interested in entrepreneurship than ever before. Who knows when that will actually happen though? It will be quite a day indeed.
But in the mean time, I am more appreciative of all the small business owners out there who risked everything and made it work; Chiseled out a small part of the world and made a lasting difference. Brooklyn Brewery helped both the micro-brewery community and the borough of the city at large. One can only hope to make as positive of a contribution as they did.