This is what all these cranes for new condos are up to
I was
flipping through the newspaper a
few weeks back and it was discussing how great it is that real estate prices in Toronto continue to go up and up and up. Then, in the middle of the article was this:
"The central bank noted certain segments of the housing market that have a persistent oversupply — such as condos in Toronto — face a higher risk of a price correction."
A high risk of "price correction" in Toronto's condo prices. One sentence. That's the headline right there. Not that prices are going up, but that the Central Bank of Canada is warning, in the most politically correct way possible, that they believe there is a housing bubble. They do not want to sound the alarms quite yet, but that is issuing a warning not to buy housing at this very moment. Pay no attention that prices went up 2.5% last year. Prices will come down. When I came home to read more into the topic, the debate was shaped this way:
Is there a housing bubble in Toronto or is it
merely frothy
?
Yes. They used that term. Frothy. If that is the debate you are having, then it is going to end badly either way. It's like asking if the chances of another recession are really high or merely just high?
The Central Bank does not want people to be caught off guard like they did in the US.
Prices do not just continually go up.
There is still time for policy adjustment to prevent the economy from crashing. Releasing warnings, therefore managing expectations, is one step to cool down the market. Canada - aware of such a pending problem
- implemented tighter lending standards than were in effect in the United States before the crash
. A minimum down payment of 5% is required, the maximum length of the loan was shortened to 25 years (US is 30), and there are strong regulations around what type of
mortgage financing can be offered
; No
Option ARMS
,
No NINA
, and
No teaser rates
. Just straight up
good ol' fixed rate mortgages.
In other words, the banks need to ensure that you have the ability to repay your loan before handing you hundreds of thousands of dollars to begin with. Is that such a crazy concept? (Only in the US).
Though that puts my mind at ease, there is still cause for concern. For one, S
ociété Générale bank believes that the market is still too unstable
that it is not worth the risk to extend credit. In addition,
BMO and TD are both attempting to limit their exposure to the housing market
in case of a crisis. But what I found much more alarming is this simple graph: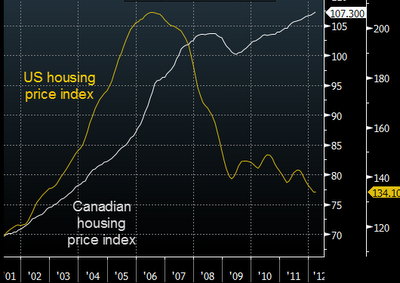 Is this what "frothy" looks like? I always pictured something that looked more like milk.
The fact that housing as a percentage of income is at levels beyond that of bubble highs in the United States. That is pretty alarming, isn't it? But before we sound the alarms, it is possible that this just shows a trend
towards urbanization founded built upon immigration
. Urban housing prices are going to be much higher than their more rural counterparts where land is in greater demand. I would also note that the speed of increase of housing prices in Canada was slower (and steadier) than that in the United States, which usually indicates more stability. If it really does indicate migration and urbanization, we would expect housing prices to continue to grow as long as immigration continues to grow. What this theory does not account for is this: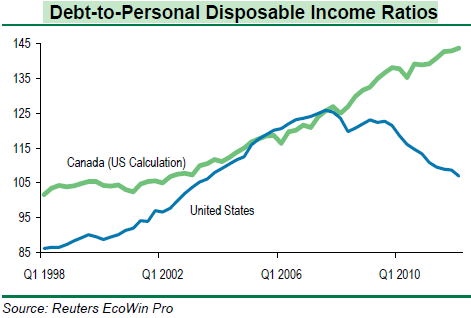 I sure hope that's not credit card debt.
Another scary graph. Debt levels are higher than the averages annual income of individuals. Worse ratios than US peaks during the housing boom. Before we jump to conclusions, I would interject that its not about how much debt you have but more about whether the fundamentals of the debt itself is sound.
Stability can be achieved by making banking boring
. No new exciting financial products that are questionable. For example,
Japan's debt levels are approaching 200 percent of GDP, which is disconcerting and yet no one believes that a default is imminent.
Can the borrowers repay the amount borrowed assuming everything else stays the same? This was not the case in the US, but it could be the case in Canada. The US was taking out debt on nothing more than a mirage. Canada's banking and finance industries are too regulated to let that happen. But are the regulations effective enough in ensuring that this debt is good debt?
Think of it this was: Good cholesterol can minimize your risk to heart disease, but bad cholesterol can kill you. So, which is it? Good or bad debt? I lean towards the latter, but I am no doctor/housing expert either.