This is the crisis that never ends;
It goes on and on my friend;
We just started slipping into it;
Not knowing what it was;
Then we just kept on sinking into it just because...
Lamb chop grows up to find a dark and depressing world.
Each nation of the Eurozone has their own national interests. When unemployment was 5 percent, it was easy for these countries to put petty concerns aside and focus on the European project. Politicians were going to get reelected as long as the economy was growing. It was a time for higher ideals. Then the recession happened. Unemployment spiked to 10 percent. The feel good days were over. All of a sudden, nations found themselves bound to a deal of another era. The sweetness of the deal had turned sour. Like a homeowner who bought their condo at the peak of the bubble, a country that agreed to a US military base during the Cold War, and a town that accepts a prison into their community for the jobs. Decisions that at one time made sense, but have since turned into regret.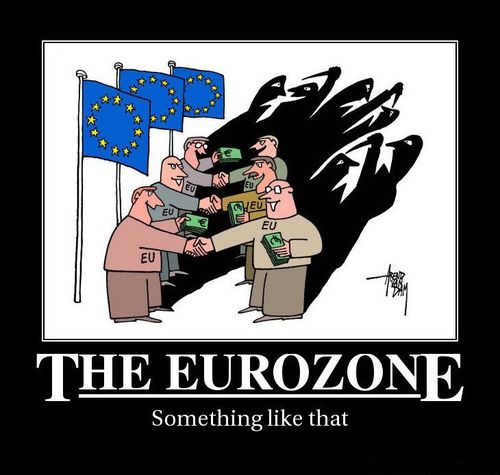 At least Europe found a new way to resolve its differences that didn't end up with Germany occupying Poland .
As the crisis continues to worsen, new agreements will continue to be announced which will push the day of reckoning off just a bit longer. Details will be sticking points. The roller-coaster ride will continue. When those issues are resolved, another big announcement will be made.
The cycle will start a new. Over and over again....